The human immune system is the body's barrier against infections and other harmful invaders and is made up of special cells, tissues, and organs. When the immune system does not work properly, an immune system disorder is considered to have occurred.
Those born with a weakened immune system are called primary immune deficiency.
Diseases that weaken the immune system that is not congenital are called acquired immune deficiency.
An overactive immune system is considered to be an allergic reaction.
An immune system that is detrimental to itself is known as an autoimmune disease.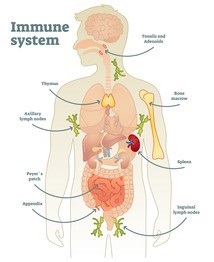 Common immune disorders include severe combined immunodeficiency (SCID) which is caused by an immunodeficiency present at birth, temporarily acquired immunodeficiency (certain medications may weaken one's immune system), AIDS (HIV, the virus that causes AIDS, is an acquired viral infection that destroys vital white blood cells and weakens the immune system), and others.
Creative BioMart, as an expert in therapeutic proteins, has noticed that more and more therapeutic proteins are being used in the treatment of immune diseases and show great potential for development, which is a positive sign for the development of drugs for immune diseases.
Therapeutic proteins in the treatment of immune diseases
TNF (tumor necrosis factor) is a regulatory cytokine that is important in protein signaling in the immune system, organizing the interactions between immune cells and directing many of their functions. Throughout life, TNF, especially TNF-α/TNF-β and its receptors, exert regulatory effects on different immune cells by activating different genes related to inflammation, proliferation, differentiation, and apoptosis. members of the TNF family are effectively involved in the messaging response of chemical messengers in the immune system.
Currently, small molecules or therapeutic proteins (e.g. monoclonal antibodies) are available for anti-TNF therapy, including Adalimumab (human monoclonal antibody), Golimumab (human monoclonal antibody), Certolizumab pegol (human monoclonal antibody), Etanercept (fusion protein produced through DNA Technology), Infliximab (Human monoclonal antibody), Pegsunercept Xanthine, Bupropion, PEG-sTNFR1, PEG-TRAIL, CDP-870, etc., and are effective targets for the control of certain human diseases, especially autoimmune diseases.
Several scientists have developed molecules that target TNF-specific signaling and synthetic pathways to develop drugs, and some molecules have shown inhibition of TNF in clinical or preclinical trials. Creative BioMart focuses on the potential of therapeutic proteins in the development of immune disease therapies, and some small molecules or therapeutic proteins in clinical or preclinical trials may shortly replace existing therapeutics as a more effective anti-TNF-therapeutic soon, so we are committed to providing researchers in the field of immune disease therapy with high-quality therapeutic protein products to advance the new landscape of immune disease therapy. Please contact our staff for the latest information and offers on therapeutic protein products.
Reference:
Doss, G. P., et al., (2014). "TNF/TNFR: drug target for autoimmune diseases and immune-mediated inflammatory diseases." Frontiers in Bioscience (Landmark Edition) 19:1028-1040.