Lung cancer includes a group of malignant epithelial tumors that originate in the cells lining the lower respiratory tract and are the leading cause of cancer-related deaths in the United States and worldwide. Lung cancer is divided into two categories non-small cell lung cancer (NSCLC) and small cell lung cancer. NSCLC accounts for more than 80% of all lung cancers, and there are three major types of NSCLC (adenocarcinoma, squamous cell carcinoma, and large cell carcinoma), which are further subtyped.
NSCLC is most common in older smokers and former smokers. Small tumors in the lungs are usually asymptomatic, so most patients have locally advanced or metastatic lesions at the time of diagnosis. The most common first symptoms are cough, chest pain, hemoptysis, dyspnea, and weight loss.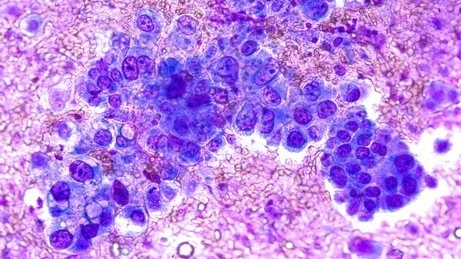 Targeted therapies are available for patients with molecularly defined NSCLC, such as epidermal growth factor receptor (EGFR) mutations and anaplastic lymphoma kinase (ALK) gene recombinant NSCLC, but most NSCLC does not have such mutations, so these targeted therapies are ineffective.
In contrast, Hu-rhEGF-rP64k/Mont is a peptide vaccine formulation for the treatment of advanced NSCLC, containing recombinant human epidermal growth factor (rEGF) linked to the Neisseria meningitidis-derived recombinant immunogenic carrier protein P64k (rP64k) and mixed with the immunoadjuvant Montanide ISA 51. The vaccine inhibits the growth of tumor cells and trophoblastic vessels by blocking EGFR-mediated cell signaling through specific active immunity, and causes apoptosis (programmed death) of tumor cells, thus achieving tumor suppression and cancer treatment and improving patient survival and quality of life.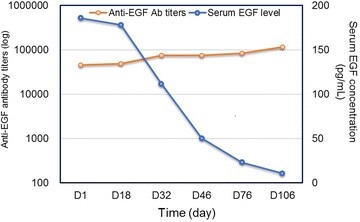 Figure1. A significant inverse correlation was observed between the anti-EGF antibody titers and serum EGF concentration in patients treated with the vaccine. (Xing, P., et al. , 2018)
Animal tests and clinical studies have shown that the vaccine is immunogenic and antitumor active, reduces EGF concentrations and increases anti-EGF antibody titers, and is well tolerated. It has good efficacy against EGFR over-expressed malignancies including lung, head, and neck cancers, ovarian cancer, etc., especially for NSCLC.
As a specialized supplier and technical support solution provider in the field of therapeutic proteins, Creative BioMart provides researchers with the most comprehensive range of therapeutic protein products covering the widest possible range of disease research areas. This includes, of course, support for non-small cell lung cancer research, where we provide researchers with a recombinant non-small cell lung cancer therapeutic vaccine ( Hu-rhEGF-rP64k/Mont ) to assist researchers in advanced non-small cell lung cancer, head and neck cancer, ovarian cancer, and other therapeutic studies. If you have a research project in this area, please contact our staff and we will be happy to provide you with high-end products and professional technical support.
Reference
Xing, P., et al. , (2018). "Therapeutic cancer vaccine: phase I clinical tolerance study of Hu-rhEGF-rP64k/Mont in patients with newly diagnosed advanced non-small cell lung cancer." BMC Immunology , 19: 14.