Cystic fibrosis (CF) is a genetic disease that affects proteins in the body. CF is caused by changes or mutations in a gene called cystic fibrosis transmembrane conductance regulator (CFTR). This gene controls the flow of salt and fluid in and out of cells, and mutations can cause the CFTR protein to become dysfunctional. People with CF have defects in the CFTR protein that affect the body's cells, tissues, and glands that produce mucus and sweat.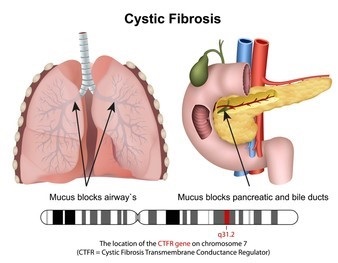 The symptoms of CF depend on the organs affected and the severity of the condition. Some people with CF have few symptoms, while others develop severe symptoms or life-threatening complications. the most serious and common complication of CF is lung problems, also known as pulmonary or respiratory problems, which may include serious lung infections.
There is no cure for CF. Treatment depends on the stage of the disease and the particular organ involved. Treatment aims to reduce the thickness and amount of mucus in the airways, prevent infection, prevent intestinal obstruction, and ensure proper intake of vitamins and nutrients.
Neutrophil inflammation in the lungs is a hallmark of CF and contributes largely to the pathogenesis of lung disease. Depelestat is a potent and specific inhibitor of human neutrophil elastase (hNE), an enzyme produced as part of the inflammatory response and associated with loss of lung function in patients with CF and other clinical conditions. Drugs that block hNE may control the inflammatory process early in the course of CF and may limit the damaging effects of excessive inflammation, thereby potentially slowing the progression of lung deterioration and reducing mortality.
Depelestat is currently being studied in a clinical study in children, adolescents, and adults to demonstrate clinical benefit and to determine trial doses. The safety of Depelestat treatment has been evaluated, as well as the efficacy of Depelestat in preventing and treating early pulmonary fibrosis alveolar inflammation in patients with persistent acute respiratory distress syndrome.
Bucelipase alfa, a recombinant human bile salt-stimulated lipase (BSSL), is being studied in clinical trials to evaluate its efficacy in the treatment of patients with CF and pancreatic insufficiency. Currently, Bucelipase alfa has been granted orphan drug status for the treatment of fat malabsorption in patients with CF.
CF was once considered to be a fatal disease in childhood. With improved treatments and better ways to manage the disease, many CF patients are now living into adulthood. Creative BioMart aims to see the lives of CF patients improved and is proud to offer Depelestat and Bucelipase alfa to researchers in the CF field. We welcome your contact at any time to ask any questions about the products or to make a purchase that will bring hope to more people with CF.