The skin is a very vulnerable tissue to injury. Many patients suffer physical and psychological trauma from skin scarring, and prompt treatment is needed to improve the appearance of scarring. Current treatments for scarring have limited efficacy and are not supported by data from prospective, robust clinical trials. Moreover, the lack of clarity in pathogenesis and the scarcity of animal models have led to the inability of existing therapies to eliminate scarring from the skin and restore the skin to its pre-injury state. However, superficial scarring has been expected to return to near-normal skin. Other types of scarring still require early prevention and a combination of multiple therapies and courses of treatment.
The transforming growth factor (TGF)-β family plays a key role in scar formation. TGF-β3 proteins are found throughout the body and are required before birth and throughout life development. TGF-β3 functions by attaching (binding) to receptor proteins on the cell surface, triggering intracellular signaling and controlling cellular activity.
TGF-β3 protein helps control cell growth and division (proliferation), maturation to perform specific functions (differentiation), cell motility, and controlled cell death (apoptosis). It prevents cells from dividing too fast or growing uncontrollably, so it inhibits tumor formation. In addition to this, the protein is involved in angiogenesis, bone growth regulation, wound healing, and immune system function.
TGF-β3 has improved the appearance of scarring in a range of mammalian species. Avotermin (human recombinant TGF-β3) , as a potential therapeutic agent to improve the appearance of human scarring, is the first of a new class of prophylactic agents in clinical development and may have a significant impact on scarring outcomes in future patients.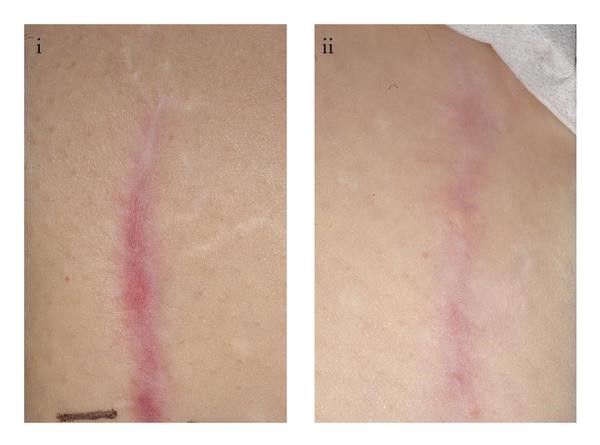 Figure 1. Photographic images showing the improvements in scarring following scar revision surgery with avotermin versus placebo at Month 7 (i) and Month 12 (ii). (Jim, B., et al. 2010)
Data collected from more than 1,100 subjects using avotermin in the Phase I/II program showed that avotermin was well tolerated and had a good safety profile compared to placebo, significantly improving the appearance of scars. Seven double-blind, placebo-controlled, prospective trials have met their primary endpoints, demonstrating statistically significant improvements in scar formation with avotermin. This also confirms that prophylactic scar improvement is medically achievable.
There is a huge unmet clinical need for hyperplastic scars and keloids. Creative BioMart offers avotermin to customers in the field of scar treatment and removal research to meet the need for improving the appearance of scarring in patients, research scar prevention, reduction and accelerated healing. Please feel free to contact us if interested in our products or if you have any questions. We look forward to working with you on your project on how avotermin can improve the appearance of scars.
Reference
Jim, B., et al. (2010). "Therapies with Emerging Evidence of Efficacy: Avotermin for the Improvement of Scarring." Dermatology Research and Practice, 2010, 690613.