Catalog#
Product Name
Size
Price
Qty
Inquiry

THP-0301

Leridistim

1 vial

$3,998.00

Add to Cart

Order
Chemotherapy is one of the main treatments for malignancies. Neutrophils serve as the body's main line of defense against acute bacterial infections and certain fungal infections. Their numbers are reduced by chemotherapy, which increases the patient's risk of developing serious and life-threatening infections.
Chemotherapeutic agents target all rapidly dividing cells, and myelosuppression is the most common dose-limiting toxicity of chemotherapy. One very common side effect of chemotherapy is neutropenia, a group of syndromes that occur as a result of a decrease in the absolute value of granulocytes in the peripheral blood.
Chemotherapy-induced neutropenia can be mild or severe, and different degrees of neutropenia have different risks of infection. For example, mild neutropenia is generally free of infection risk, while severe neutropenia has a high risk of infection and is a clinical emergency requiring urgent management.
Accurate assessment, prevention, and treatment of such hematologic toxicities during chemotherapy are extremely critical to the prognosis of oncology patients. Treatment includes prophylactic use of antibiotics or drugs that promote white blood cell production in the bone marrow.
Leridistim is a recombinant chimeric dual granulocyte colony-stimulating factor (G-CSF) and interleukin-3 (IL-3) receptor agonist that binds with high affinity to both the IL-3 and G-CSF receptors, thereby stimulating the production and maturation of neutrophils, platelets, and lymphocytes after chemotherapy.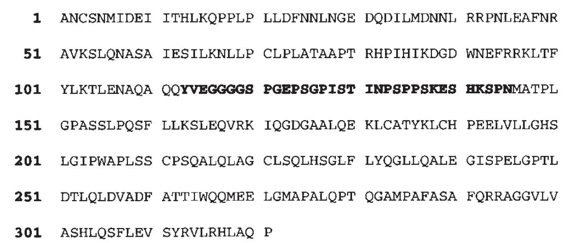 Figure 1. Amino acid sequence of leridistim. (Abegg, A., et al., 2002)
Leridistim increases the number of immune cells in the bone marrow or peripheral blood. In AML-193.1.3 cells, the potency of leridistim was significantly increased compared to rhG-CSF, SC-65303 (an IL-3 receptor agonist), or a combination of rhG-CSF and SC-65303. The CFU-GM assay in the study showed that at 50% of the maximum response, the relative potency of leridistim was 12-fold higher than the combination of rhG-CSF and rhlL-3 and 44-fold higher than rhG-CSF alone. This shows that leridistim is a more potent stimulator of hematopoietic proliferation and differentiation than single receptor agonists (rhG-CSF and SC-65303) used alone or in combination.
Leridistim's unique properties suggest that it may enhance hematopoietic reconstitution after myelosuppressive chemotherapy and may help one's immune system recover from the side effects of chemotherapy. Creative BioMart, a leading provider of therapeutic recombinant proteins, has an ongoing, heightened interest in chemotherapy-induced neutropenia.
We provide leridistim products to customers in the research areas of anemia, leukemia, neutropenia, and thrombocytopenia. We assist our customers in better investigating how to treat the above-mentioned diseases. If you are interested in the products we offer you can place an order online. If you have any questions, please feel free to contact us for a satisfactory response. We look forward to working with you on the efficacy of leridistim in chemotherapy-induced neutropenia.
Reference:
Abegg, A., et al., (2002). "The enhanced in vitro hematopoietic activity of leridistim, a chimeric dual G-CSF and IL-3 receptor agonist." Leukemia 16, 316-32.