Pigment epithelium-derived factor (PEDF) is a 50 kDa secreted protein that is a member of the SERPIN superfamily, also known as serpinf1. Although PEDF was originally identified in retinal pigment epithelial cells, it has now been found to be expressed in a variety of tissues and cell types. PEDF is a multifunctional protein that plays an important biological role in many physiological and pathophysiological processes.
PEDF is involved in signaling pathways related to cancer development and is closely associated with cancer cell proliferation, cell migration, and apoptosis. It has been shown that inhibition of PEDF significantly reduces tumor growth and tumor size in vivo. In addition, it is also involved in the development of several diseases such as chronic inflammatory diseases, atherosclerosis, and type 2 diabetes.
PEDF and cancer biology
Cancer remains a major medical problem with considerable morbidity and mortality. Researchers need to improve current cancer therapeutics, especially inhibitors that target tumor growth, survival, and metastasis. PEDF acts as a potent anti-angiogenic, anti-proliferative, and pro-differentiation factor with antitumor properties that induce direct and indirect tumor suppression.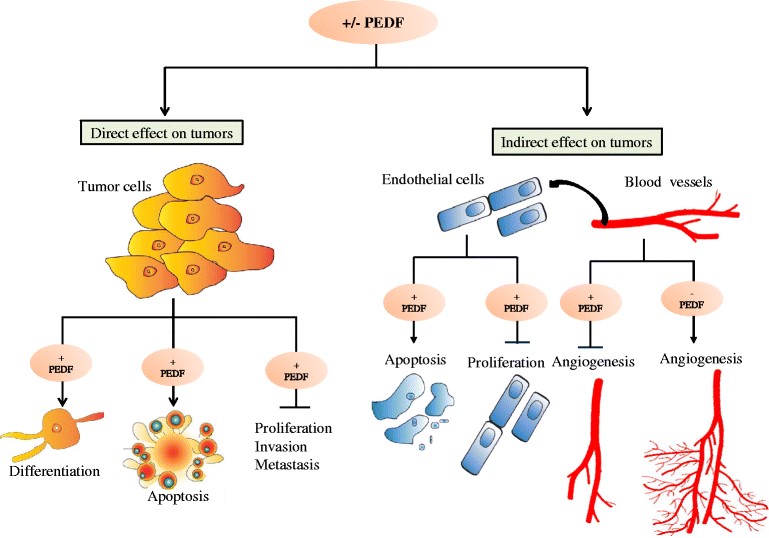 Figure 1. Modulation of the expression of PEDF affects tumor growth either (i) indirectly through the inhibition of angiogenesis, or directly via the prevention of cell proliferation, invasion and metastasis in concert with the promotion of cell apoptosis and/or differentiation. (Belkacemi, L., et al. , 2016)
Experiments have shown that intravenous administration of PEDF-expressing mesenchymal stem cells (MSCs) significantly inhibited the growth and development of metastasis in primary liver tumors. It has shown promise as a potential antitumor agent in hepatocellular carcinoma studies. The same approach may also apply to treating patients with other tumor types.
PEDF and cardiovascular biology
Cardiovascular-related diseases are a cause of morbidity and mortality worldwide. PEDF has been characterized in the cardiovascular system. Local overexpression of PEDF may prevent local angiogenesis, inflammation, and thrombosis, thereby counteracting the instability and rupture of lesions caused by inflammatory activation, excessive angiogenesis, and subsequently inhibiting subsequent thrombosis.
It has shown beneficial effects in atherosclerosis (a major cause of coronary artery disease, myocardial infarction, and heart failure) due to its anti-inflammatory, antioxidant, and anti-thrombotic effects on the vessel wall and platelets.
With neurotrophic, neuroprotective, anti-angiogenic, and anti-cancer activities, PEDF is expected to be a potential therapeutic target for cancer and cardiovascular diseases. Creative BioMart provides PEDF protein products to customers in the field of cardiovascular disease and oncology research to accelerate the development of therapeutic targets for diseases. In addition, we are also actively promoting the use of PEDF in combination with therapeutic strategies for ocular neovascular diseases. Please feel free to contact us for any of your needs regarding our products. You can also place your order online . We look forward to working with you in the cardiovascular and oncology fields.
Reference:
Belkacemi, L., et al. , (2016). "Anti-tumor effects of pigment epithelium-derived factor (PEDF): implication for cancer therapy. A mini-review." Journal of Experimental & Clinical Cancer Research , 35, 4.