Colorectal cancer is the third most common cancer in men and the second most common in women worldwide. It primarily affects the large intestine, including the colon and rectum. Colorectal cancer can occur at any age, but more than 90% of cases occur in people over the age of 50. Typically, colon cancer begins as small, non-cancerous (benign) polyps that form inside the colon. Over time, however, some of these polyps will transform into colorectal cancer.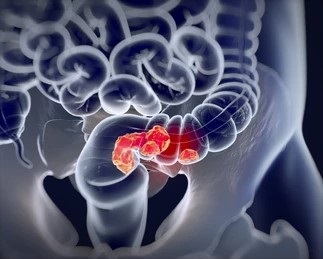 The most common type of colorectal cancer is sporadic (non-hereditary) colorectal cancer. Colorectal cancer can spread to other tissues and organs through lymphatic, blood circulation, and direct spread. The prognosis is poor if the cancer is widely infiltrated, metastatic, or has complications. The cure rate of advanced bowel cancer is less than 50%. According to current global research and understanding of colorectal cancer, a significant number of colorectal cancers can be prevented. Or they can be detected and diagnosed early through screening and have a chance of being cured. However, if colorectal cancer does occur, there are a variety of treatments available to help control the disease. These include surgery, radiation therapy, and drug therapies such as chemotherapy, targeted therapy, and immunotherapy.
Entolimod is a recombinant protein that acts as an agonist of the innate immune receptor toll-like receptor 5 (TLR5). The results of studies have shown that entolimod can be safely combined with other chemotherapeutics, targeted or immunotherapeutic agents. It has also been shown to be host protective against many types of injury. It can be used to treat advanced and other very difficult-to-treat cancers, including colorectal cancer.
Entolimod's mechanism of action involves TLR5-dependent NF-κB signaling that mobilizes the innate immune response, which drives the expression of many genes. This includes apoptosis inhibitors, reactive oxygen species scavengers, and a range of protective or regenerative cytokines. In addition, entolimod can be used as an adjuvant to standard radiation and chemotherapy. This will allow researchers to use more aggressive measures to attack malignant cells and improve the effectiveness of cancer treatments.
The world is facing a huge disease burden of colorectal cancer. Incidence rates continue to rise in populous low- and middle-income countries and remain high in most developed countries. This will all lead to a further increase in the global health threat of colorectal cancer. Colorectal cancer will likely remain a major public health problem for a long time.
Creative BioMart has a very high level of concern for this global disease problem. We are committed to providing our customers with Entolimod products of consistent and guaranteed quality. As it has shown remarkable efficacy in protecting the normal tissues of mammals from various stresses. Therefore, we would be happy to work with any interested customer in colorectal cancer research. If you have any special needs or questions, please contact our staff. We will be a good partner to accelerate your colorectal cancer research.