Hepatitis C virus (HCV) is a blood-borne virus that causes acute or chronic liver inflammation. HCV contains seven significant genotypes and 67 subtypes. Acute infection with HCV is usually asymptomatic and mostly does not lead to life-threatening disease. About 30% of infected individuals clear the virus independently without any treatment within 6 months of infection. The remaining 70% of those infected develop chronic HCV infection, with a risk of developing cirrhosis within 20 years ranging from 15% to 30%.
WHO estimates that approximately 58 million people worldwide are infected with chronic HCV, with approximately 1.5 million new HCV infections occurring each year. Because new HCV infections are usually asymptomatic, few people are diagnosed during the recent infection period. For those who develop chronic HCV infection, the infection status is also often not diagnosed promptly. This is because infected individuals remain asymptomatic for decades after acquiring the infection and are not diagnosed until the onset of secondary symptoms that cause severe damage to the liver.
Antiviral drugs can cure more than 95% of people with HCV infection, but access to diagnosis and treatment is low. And there is no effective vaccine against HCV.
Polyethylene glycol interferon lambda-1a (Lambda) is a pegylated type III interferon with HCV antiviral activity similar to that of alpha interferon. However, Lambda uses a more restricted tissue distribution unique receptor than the peginterferon alfa-2a (alfa) receptor.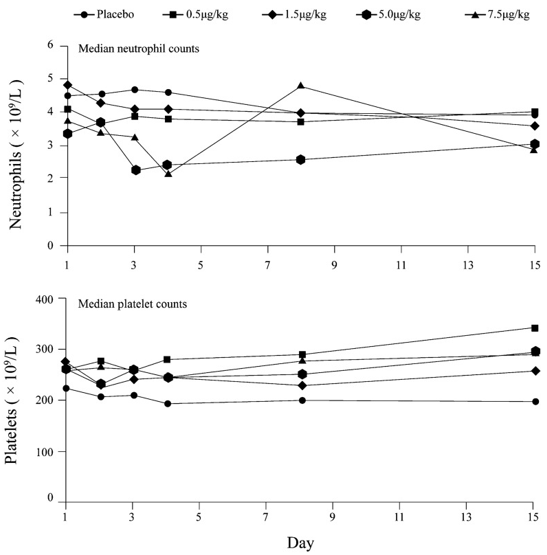 Figure 1. First-in-human hematologic effects of peginterferon lambda-1a administered as a single dose to healthy volunteers. (Andersen, H., et al., 2013)
In the phase 2 EMERGE study, Lambda plus ribavirin (Lambda/RBV) and alfa plus ribavirin (alfa/RBV) achieved similar sustained virologic response rates in previously untreated genotypes 1-4 infections. However, Lambda/RBV exhibited higher tolerability. It was characterized by fewer musculoskeletal and influenza-like events and better hematologic features, including improved RBV-associated anemia through compensatory erythropoiesis.
Lambda's potential as an exogenous therapeutic agent is beginning to emerge. Given its safety and efficacy profile through Phase 2 development, Lambda may find future utility in combination regimens with direct-acting antiviral agents. In addition to this, Lambda has also been used in studies to prevent and treat COVID-19 infections caused by SARS-CoV-2. This shows that it has a very promising application in pulmonary and hepatic viral infections.
Creative BioMart has a strong focus on chronic HCV infections. We offer a stable supply of Lambda to our customers in research related to chronic HCV infection and COVID-19 infection to assist you in conducting your studies and obtaining accurate and reliable results. If you are interested in the products we offer, you can place your order online. If you have any questions, please feel free to contact us for a satisfactory response. We look forward to working with you to investigate how Lambda can play an important role in the study of chronic HCV infection.
Reference:
Andersen, H., et al., (2013). "Peginterferon Lambda-1a, a New Therapeutic for Hepatitis C Infection, from Bench to Clinic." Journal of clinical and translational hepatology, 1(2), 116-124.