According to the American Cancer Society estimates for bladder cancer in the United States in 2022, there will be about 81,180 new cases of bladder cancer in just one year and about 17,100 deaths from bladder cancer. Bladder cancer is the fourth most common cancer in men, but less common in women.
Carcinoma in situ (CIS) of the urinary bladder, defined as a high-grade flat lesion confined to the mucosa, although classified as non-muscle-invasive bladder cancer (NMIBC), is usually poorly differentiated and highly malignant, with a high risk of recurrence and secondary metastasis. CIS of the bladder exhibits different clinical behavior, with up to 80% risk of muscle infiltration in untreated patients and a possible 60% disease-specific mortality.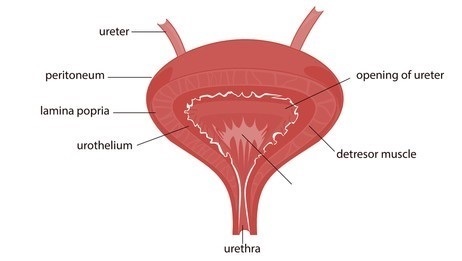 Figure 1. structure of the urinary bladder.
Most treatment strategies for bladder carcinoma in situ have opted for a bladder preservation strategy, which is transurethral electrodesiccation of the bladder tumor coupled with postoperative adjuvant perfusion therapy, which is commonly used to treat bladder carcinoma in situ. The bladder perfusion treatment of choice is bacillus Calmette-Guérin (BCG), which has a complete remission rate of 72% to 93%, significantly higher than that of bladder perfusion chemotherapy (48%), and can significantly reduce its recurrence rate and probability of progression, therefore, BCG bladder perfusion immunotherapy is commonly used in postoperative adjuvant therapy.
BCG substrain connaught live antigen is intravesically administered for the treatment and prophylaxis of CIS of the urinary bladder and for the prophylaxis of primary or recurrent stage Ta and/or T1 papillary tumors following transurethral resection (TUR). The solution contains a live, attenuated strain of Mycobacterium bovis. It is prepared from the Connaught strain of Bacillus Calmette and Guérin.
The American Urological Association (AUA) and European Association of Urology (EAU) guidelines state that BCG has been accepted as first-line treatment, but the treatment of bladder cancer in situ remains a complex and challenging task due to its high recurrence and progression rates.
At Creative BioMart, a leading provider of recombinant proteins, we focus on the use of recombinant protein-based drugs and compounds in the treatment of all types of cancer, especially for this highly prevalent and malignant carcinoma in situ of the bladder. We provide high-quality and reliable BCG substrain connaught live antigen products to experts and researchers in the field of bladder carcinoma in situ, which you can use in relevant scientific research (excluding clinical trials and related uses).
If you need to purchase the product or have questions about the product we provide, you can contact our staff by submitting information online or sending an email, and we will contact you as soon as we receive your information to provide you with the most appropriate solution.
References
Subiela J. D., et al., (2019). "Carcinoma In Situ of the Urinary Bladder: A Systematic Review of Current Knowledge Regarding Detection, Treatment, and Outcomes." European Urology Focus, 6(4): 674-682.
Rentsch C. A., et al., (2014). "Bacillus Calmette-Guérin strain differences have an impact on clinical outcome in bladder cancer immunotherapy." European Urology, 66(4):677-88.